Three Brothers Boards
Three Brothers Boards is a local manufacturer of paddleboards, which are somewhat similar in design to surfboards. Paddleboards facilitate balance with their oversized frames and are usually accompanied by paddles that allow for swift movement across water. Three Brothers came in looking for a fresh site design and a digital marketing program that would extend their sales. In all, Three Brothers wanted all 3 categories of our services — website design, digital marketing, and digital media, which would allow for a way to treat their website as a true extension of their physical retail store.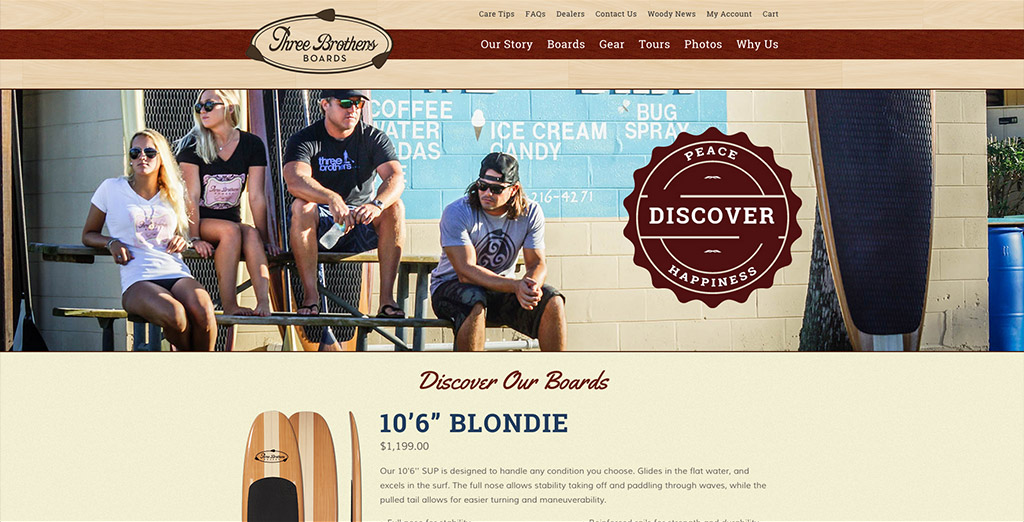 The first thing Three Brothers wanted us to address was the general look and feel of the site. They pride themselves on the quality of their paddleboards, especially the high-quality wood that has visible wood grains. We took this idea and used it as the theme of the website by using a subtle tiling image of wood as a background image on the new website. We accompanied that with great high-resolution images that really complete the visual style of the site.
Three Brothers also asked us to address their web store. We rebuilt it using WooCommerce and were able to lay out each paddleboard in a way that showed its benefits and selling points. The home page gives a quick overview of each board, while the individual product pages go into detail. We supplemented the new store design with a digital marketing package that included comprehensive search engine optimization and a digital marketing campaign that produced immediate results.