Nada Swim
Nada Swim is a brand of bikinis founded by local beachgoer and surfer Paige White. Unlike most of our other sites, Nada Swim did not have an existing website when we began the project. Without a reference point or an established brand, we had an unusually high amount of creative control over the direction that the site would take. Nada Swim needed to do two things: display products tastefully and establish a shop with an e-commerce platform.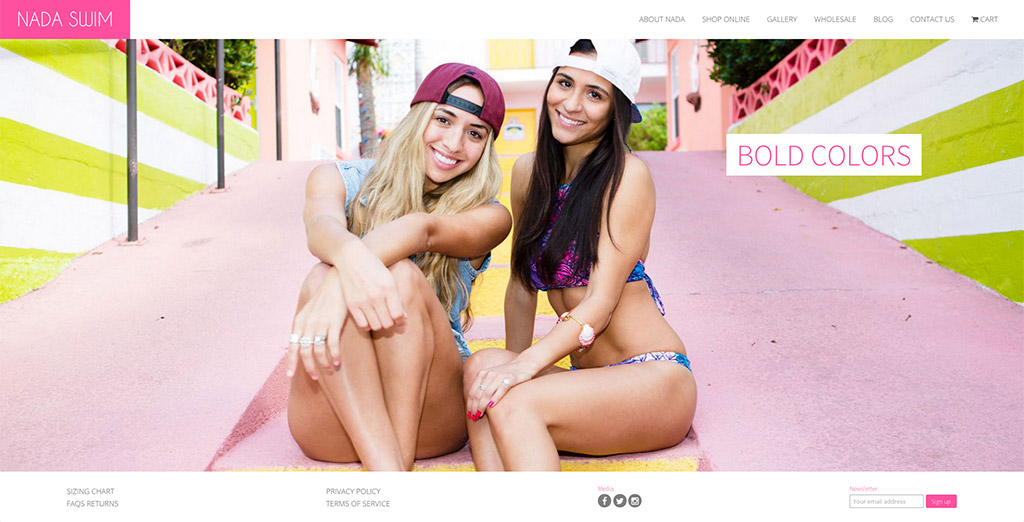 Our main focus for Nada Swim was to build the website around the large, high-quality images. We included high-resolution images on almost every page and used them as the subject of visual focus. Because the content was primarily image-based, we structured the site accordingly and used a full-screen layout where each page directs the user to view Nada's clothing line, go to the shop, or contact Nada Swim.
The shop is built on WooCommerce, a robust and extensible e-commerce platform for WordPress. The custom template pages for the WooCommerce section show off the bikinis in various colors and from multiple angles in order to complement the more artistic photography featured on the rest of the site. The straightforward ordering process is ideal for Nada Swim because the target demographic — teenage girls and young women in coastal areas like Florida and southern California — is highly likely to visit the site using phones. Nada Swim has the largest portion of mobile users accessing the site, signifying the importance of mobile-friendly design, especially for the shop.