EC Network
Emergency Communications Network (ECN) is one of the top providers of Emergency Communication software in the United States and Canada. It was only natural that they have a website that matches the level of their products. ECN came to IMG with a static website that was extremely dated and did not accurately reflect their brand. In addition, the website provided no type of mobile support for visitors on tablets or mobile phones.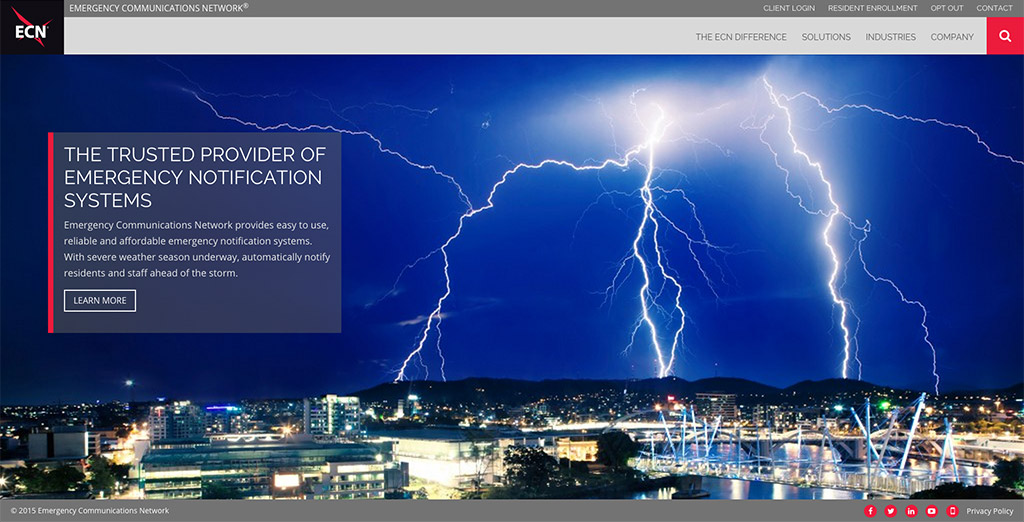 IMG provided a brand new website that was focused on user experience and converting visitors to leads. The site utilizes the WordPress content management system allowing the site to be managed 100% internally by ECN staff. In addition, the layout takes advantage of high-end imagery to invoke emotion and familiarity with site visitors.
Since the launch of their new website, ECN has experienced over a 100% increase in site visits resulting in significantly increased leads and conversions. IMG continues to contract with them for additional projects.
Stephen and his team at InFocus Media delivered an on-time, beautifully designed website that quite literally knocked our socks off. I along with our executive team at ECN has been continually impressed at the expertise, attention to detail and amazing work ethic we found with the company. Since our website launched in March, we have seen a huge increase in unique visitors to our website. Already, we've seen the ROI on the project with the amount of quality leads generated from our new website. Our sales team has received a large increase in inbound sales leads and we know the new website has had everything to do with it.

As with any trustworthy vendor, we have already begun initiating additional projects with them based on their ability to deliver an outstanding product at an extremely reasonable price with support after the initial sale. I quite literally would like to shout from the rooftops what an amazing experience it has been working with Stephen and InFocus Media, and without hesitation I would recommend his company to anyone who is looking for modern, responsive web design.